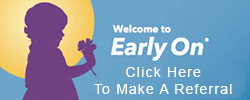 Early On Michigan is the system of early intervention services for infants and toddlers, birth to 3 years of age, with disabilities or developmental delays, and their families.
Early On is Michigan's system of coordinating early intervention services for children birth to age 3 who may have a developmental delay or a medical condition that could lead to delay.
Growing and learning are your child's most important jobs. Sometimes, parents notice that their baby or toddler does not seem to be at the same stage of development as other children that age. Identifying concerns can begin at home. Early Identification of possible problems can lead to early help so each child can be more successful.
Parents who are worried about their baby or toddler for some reason, or whose baby was born with a medical problem, can now find help while their child is still young. Many free services are available in Mason, Lake and Oceana counties.
Early On builds upon and provides supports and resources to assist family members and caregivers to enhance eligible children's learning and development through everyday learning activities. Early On services are developed based on the family's concerns and priorities, using the principle that infants and toddlers learn best through everyday experiences and interactions with people and settings they know.
What Services Does Early On Offer?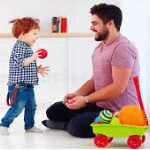 Evaluation: If it is suspected that a child has a developmental delay or a condition that could lead to such delay, an evaluation is initiated.
Individualized Family Service Plan: If the child is eligible for Early On services, an Individualized Family Service Plan (IFSP) is developed. The IFSP addresses the developmental needs of the child as well as the needs of the family helping the child.
Service Coordination: An Early On Service Provider helps the parent coordinate the services outlined in their child's plan.
Implementation: Services outlined in the IFSP are implemented with permission of the parent.
Early On helps families get the help they need for their children. Parents know what is best for their families. There is no cost for the evaluation. At Early On, we listen to you. You will find friendly, supportive, and knowledgeable people who will talk to you about your concerns.

If you think your infant or toddler may have a developmental delay or if you know a child whose development is delayed, contact West Shore ESD's Early On Program at (231) 898-1600 or go online by clicking the link below.